Compressed Watermelon with Watermelon Sauce
Jul 10, 2023
Compressed Watermelon with Watermelon Sauce
Soaking watermelon in its own condensed juices makes a double-down sweet-as-can-be watermelon flavor. It's the perfect summer dessert; no sugar needed!
Serves 4 to 8 depending on size of watermelon
Ingredients:
1 seedless watermelon - look for a heavy watermelon with a large yellow "sunspot" rather than a white spot on the skin.
Garnish: use any or all or think of your own!
½ cup toasted or un-toasted coconut flakes

Slivered basil, mint, or both, or whatever you'd like!

Pomegranate seeds
Directions:
Wash your watermelon well in hot soapy water to remove any germs and dirt from the skin. Rinse well and dry with a clean towel.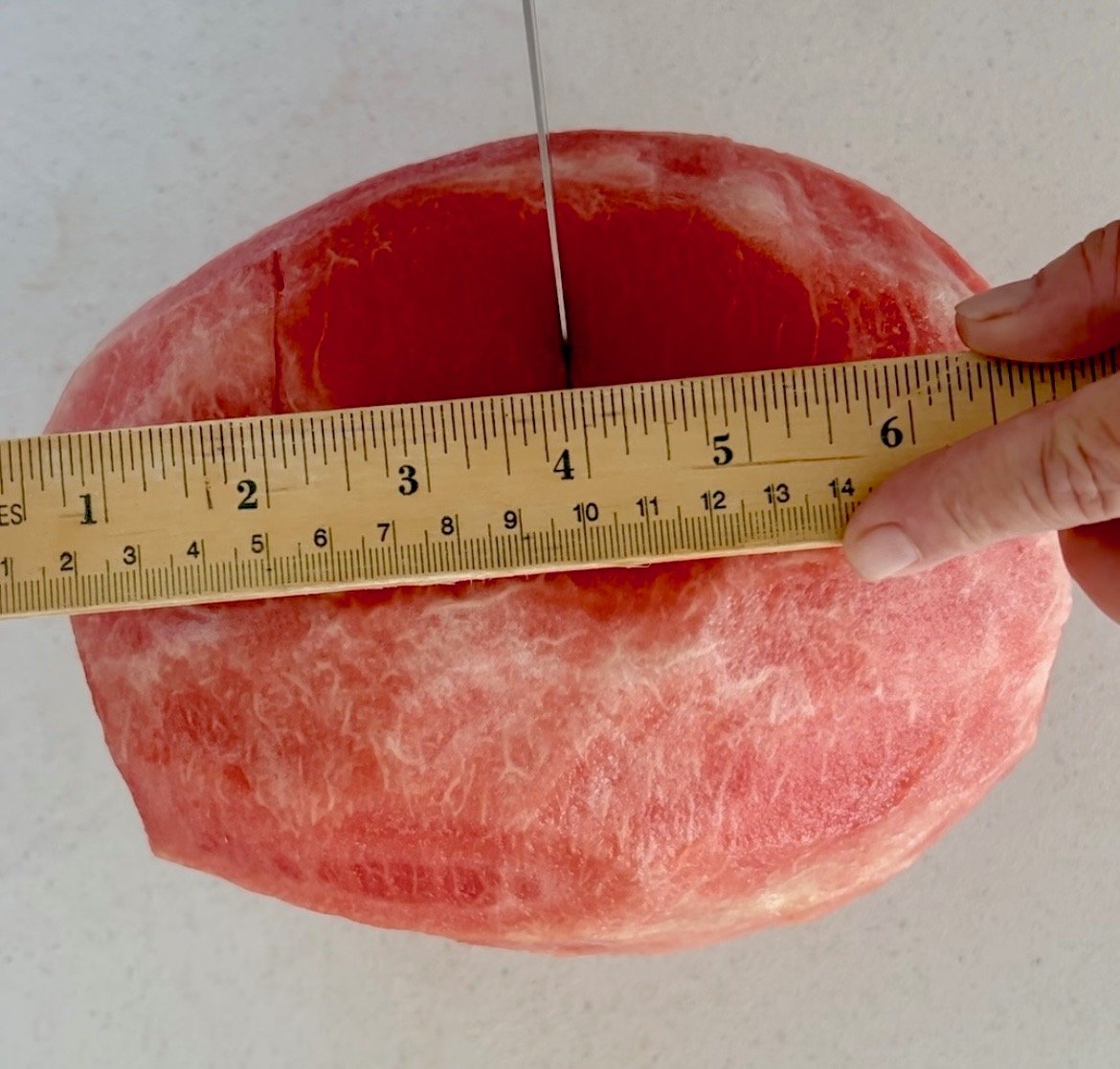 Using a clean cutting board, cut the watermelon into (as perfectly as possible) squares that are 1 ½ to 2 inches in diameter. Use a ruler. Save the red fruit scraps in a bowl. Discard rind and white fruit.

Sprinkle cubes very lightly with fine sea salt and gently set in a colander gently to drain.
Purée the scraps into a fine "soup" in a blender or with a hand emersion blender… which means less washing!

Measure the purée and place it in a saucepan. Reduce it by half by simmering. Stir occasionally.

It will separate at first and then should look like tomato sauce.

Taste. If it's not quite sweet enough, add light honey to taste; no more than a tablespoon or so.

Cool and then chill until cold.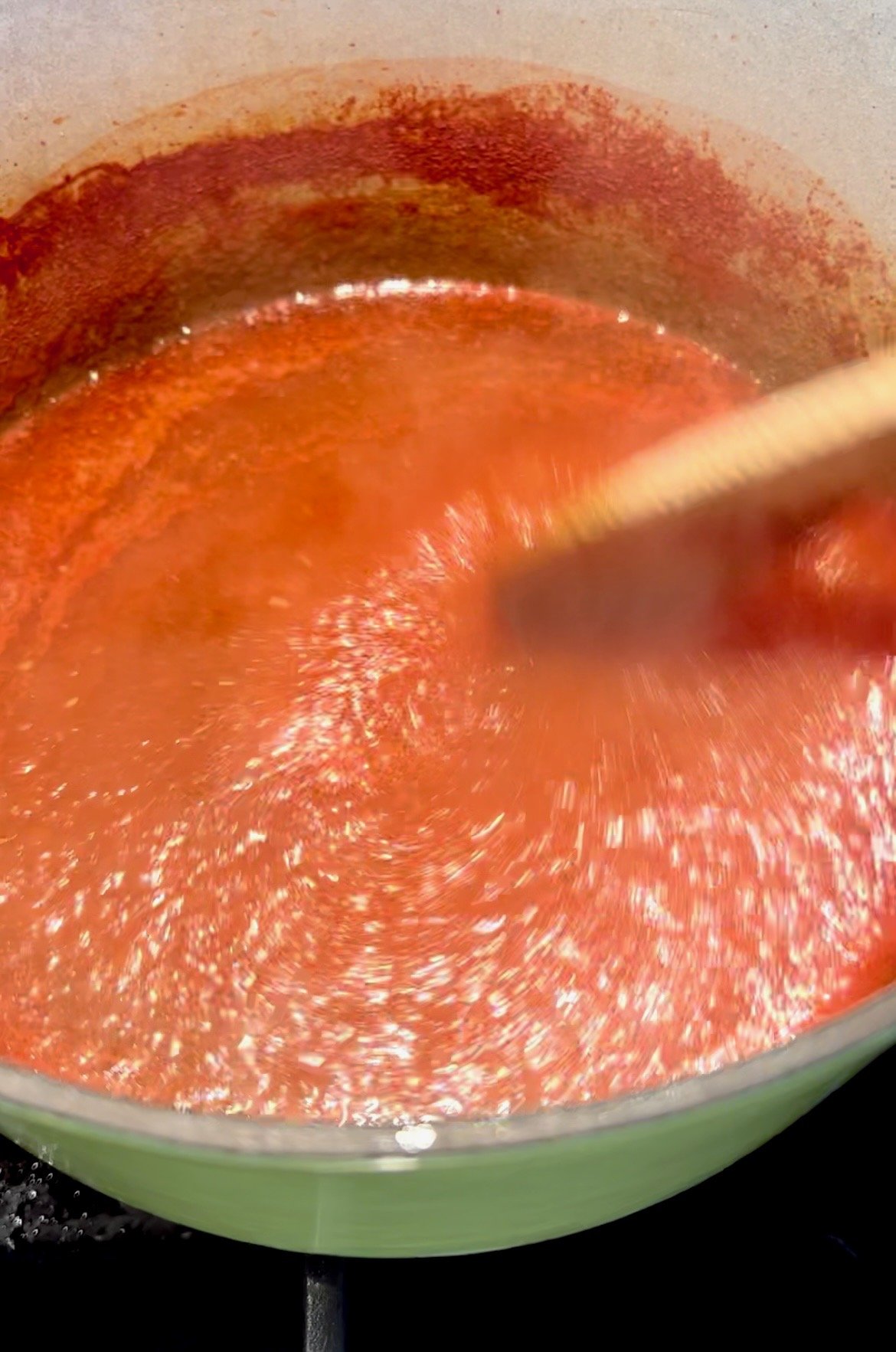 The reduced puréed watermelon should look like tomato sauce.
Once the sauce is chilled, put the squares into a square or rectangular glass Pyrex-type dish that just fits the squares. You will need two.

Pour the sauce over the squares.

Cover with parchment paper, and then place the second dish on top.

Add weight such as heavy cans, etc. See photo.

Turn the squares once after an hour or so if they are not completely covered with sauce.

If you don't have the right container, you can also place the cubed watermelon in a zip lock gallon bag placing squares tightly next to each other and in a single layer. Add the purée and seal, pressing out as much air as possible.

Place the bags on a cookie sheet with a rim in case of leakage.

Place another cookie sheet or something similar on top of the bags that will provide gentle, even pressure, such as a small cutting board.

Top the cookie sheet or cutting board with several cans, an unopened milk carton on its side, etc. to apply extra pressure.
**Chill for 2-3 ho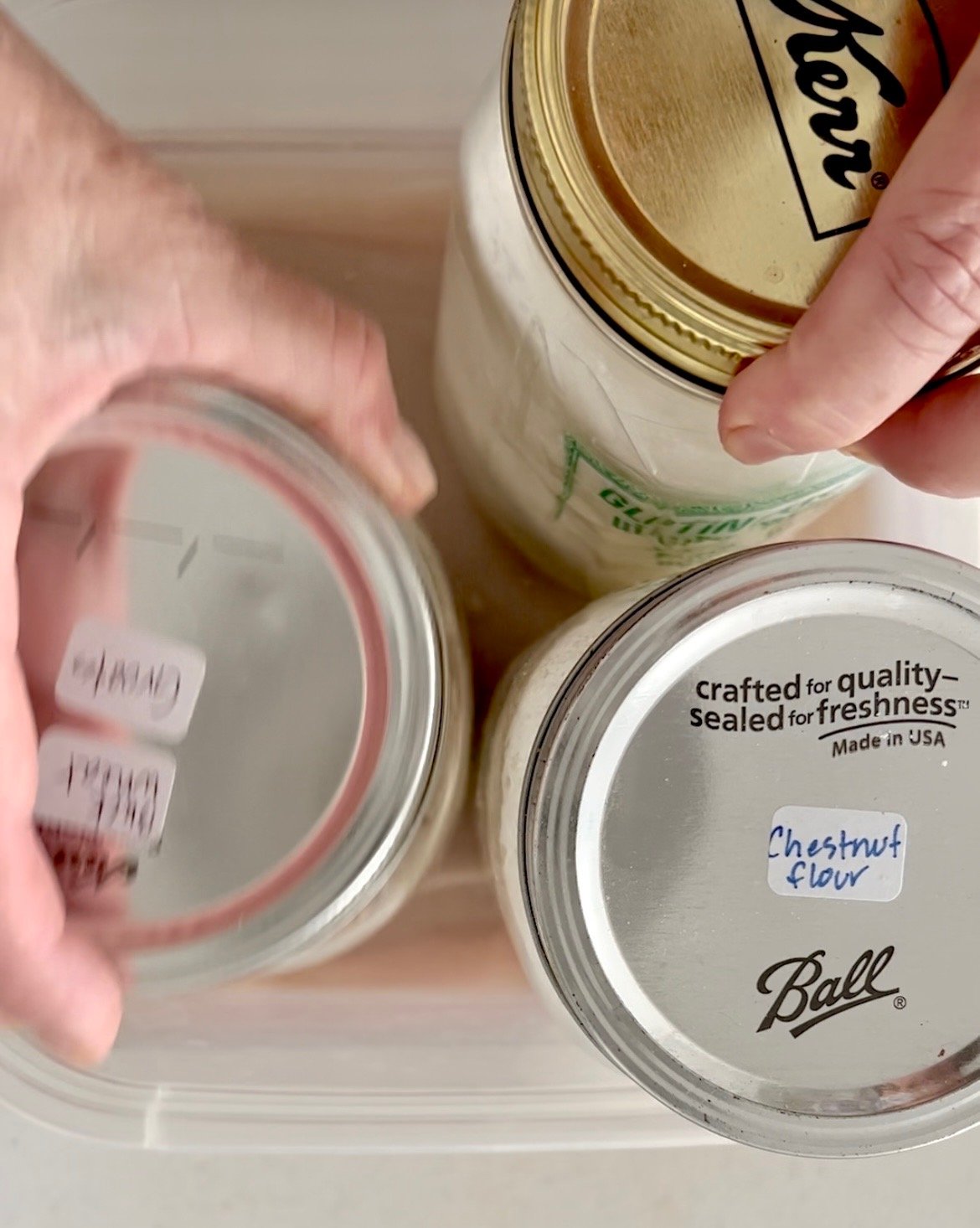 To serve:
Place two or three cubes into each serving bowl. Drizzle sauce around the cubes and garnish with toppings.

You can also use a large rimmed platter for large gatherings. Drizzle sauce over the cubes and garnish with toppings.
Stay up-dated with new recipes and techniques in the kitchen